Leo ABK200 - 1.5KW 400V Semi-Open Impeller Centrifugal Pumps » Buy online now for only R 5,081.45 incl. VAT
12243
5,081.45
R 5,081.45 incl. VAT
New
In stock! Order now!
Add to Basket
Average Delivery Time: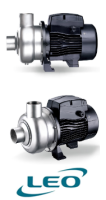 Leo ABK Semi Open Impeller Stainless Steel Centrifugal Pumps 400V
Features
AISI 304 pump body Stainless steel impeller
AISI 304 shaft
Liquid temperature: -15°C ~ +80°C
Liquid PH value: 5 – 9
Max. solid diameter: 19mm
Motor with copper winding
Built-in thermal protector for single phase motor
Insulation class: F
Protection class: IPX4
Max. ambient temperature: +40°C
Applications
Can be used to transfer liquids with light corrosive requirements, for health and containing impurities, etc.
Suitable for industrial and domestic sewage systems, food & beverage processing, farming, pumping water from rivers and lakes.
Can be used at full head without overloading motor.
This product can be found under