Vansan Control Box For Water Filled Motor- 1.5KW 230V » Buy online now for only R 1,686.65 incl. VAT
13406
1,686.65
R 1,686.65 incl. VAT
New
In stock! Order now!
Add to Basket
Average Delivery Time: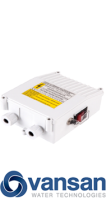 Vansan Control Box For Water Filled Motor- 1.5KW 230V
Features
The MA Single Phase pump control box provides basic protection against short circuiting and over current. It is equipped with a capacitor and thermal over-load protector and is ideal to use with Vansan pumps that are fitted with 230V motors from 0.37KW to 2.2KW.
This product can be found under