Vansan IDB70 + PSO1 - 0.75KW 230V Peripheral Pump With Controller
13494
Price Unavailable - Please contact us for a quote.
New
In stock! Order now!
Average Delivery Time: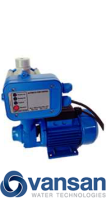 Vansan IDB70 + PSO1 - 0.75KW 230V Peripheral Pump With Controller
Performance
Can be used to transfer clean water or other liquids similar to water in physical and chemical properties.
Suitable for small living water supply, automatic water sprinkler system, small air conditioner system or supporting equipment etc.
Features
Pump body/ motor support: cast iron.
Impeller: Brass.
Internal thermal protector.
Motor shaft: AISI1045.
Mechanical seal: NBR/Graphite/Ceramic.
IEC 60034-1
IEC 335-1
IEC 34-1
ISO 2548
Single phase power supply with capacitor permanently activated.
Insulation class: B
Protection: IP44
Speed of rotation:2850rpm
Continuous duty: S1
Applications
Suction lift up to 6-8m with foot valve.
Maximum operating pressure: 8 bar.
Maximum ambient temperature: +40°C.
Liquid temperature up to +90°C.
Maximum altitude +1000m.
This product can be found under