Mono GH Gland (Half) Packed Gland - Cast iron
9049
Price Unavailable - Please contact us for a quote.
New
In stock! Order now!
Average Delivery Time: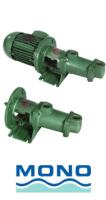 Mono Industrial Pump Range
Performance
Features
Progressing cavity principle – a helical rotor turning within a resilient stator
Uniform positive displacement flow irrespective of pump speed
Ideal to transfer of free-flowing substances from high viscosity glues to solids in suspension and water
Abrasion-resistant
Self-Priming with good suction capabilities
Can handle product temperatures up to 50°C
Simple construction requiring very little routine maintenance that can easily be carried out in the field by unskilled labour.
Applications
This product can be found under