Tesk Stainless Steel Vertical Multistage Pumps SVM10 Series 230V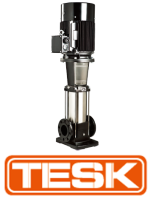 Tesk vertical multistage pumps are designed to pump water with the required capacity & head for:
industrial applications,
high buildings,
fire fighting systems
booster applications.
The inline design has the advantage of having a horizontal line installation and the same size inlet & outlet connection. This feature provides for compact system designs.
Tesk Stainless Steel Vertical Multistage Pumps SVM10 Series
829 kB | Download
Tesk Stainless Steel Vertical Multistage Pumps SVM10 Series 230V