Leo 4SR1-26 - 0.75KW Submersible Borehole Pumps » Buy online now for only R 3,106.52 incl. VAT
12330
3,106.52
R 3,106.52 incl. VAT
New
In stock! Order now!
Add to Basket
Average Delivery Time: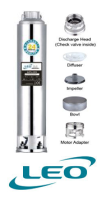 Leo 4SR Submersible Borehole Pumps
Features
Our 4SR/4SA series submersible pump adopts AISI304 casing and high strength durable "floating impellers". Impellers are made of American "Noryl" material which has the approval of the American Food and Drug Administration(FDA), with high-quality hydraulic design. AISI304 motor base up to "NEMA" standard, built in AISI304 check valve, AISI304 outlet and built-in strainer.
Applications
Our SR/SA series of pumps can be widely applied in domestic agricultural, industrial,mining, food and beverage industry.
This product can be found under